Cancer Care Guide: Benefits of Body Cream for Skin Health and Its Application in Cancer Care
Posted by SYLVIA NG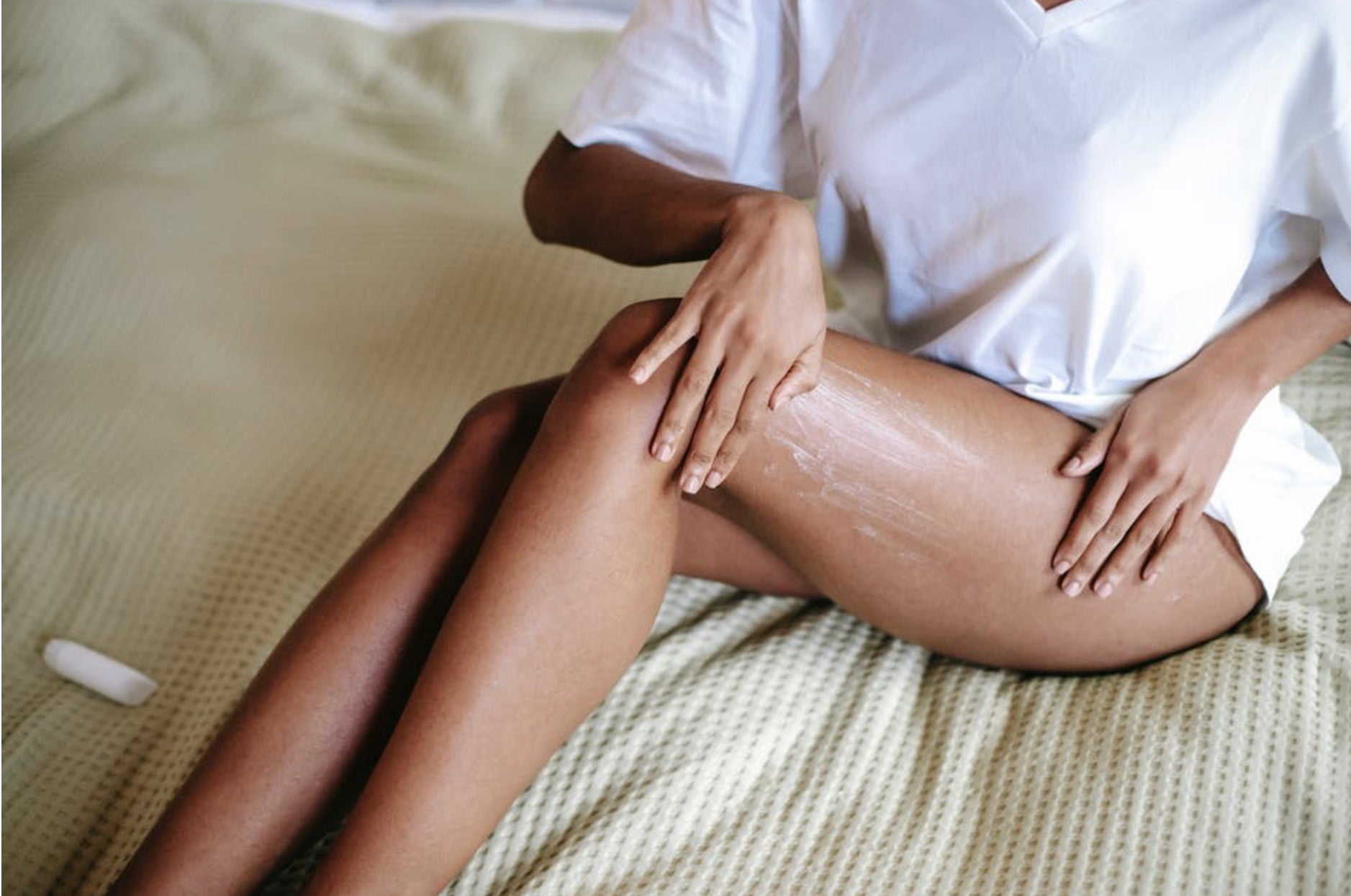 Body creams date back all the way to the Ancient Greeks, who made their own skincare products using local and natural ingredients. One of the most popularly used skincare treatments was mixing berries with milk, and then applying the mixture as a moisturizing agent all over the body. 
But what about nowadays? 
Don't worry! In this article we are going to take a deep dive into current body creams, do's and don'ts, ingredients to avoid, skin health benefits, cancer care application, how to's, and what ingredients to look for. Let's jump right in!
The impressively hydrating benefits of body creams
Body creams are excellent for moisturizing, and soothing our skin. The skin is the body's largest organ and necessitates regular attention to stay young, blemish-free, and healthy -  in a similar way to how we get hydration internally when we drink water. 
Body creams can be commonly used to reduce fine lines, smoothen and hydrate skin which may improve an individual's social life, psychological and quality of life. Moisturizers can also be considered as cosmetics as well as therapeutic products due to their application to overcome diseases associated with skin dryness and irritation.
Let's take a look at the top benefits of body creams:
Body creams can have considerable anti-inflammation and moisturizing properties depending on the ingredients used. For this reason, specific types of body creams have been shown to be effective when applied to treat dry skin diseases due to the fact that they can help to lock in moisture and active ingredients.
Dryness and skin barrier disorders are not a single entity, but are routinely characterized by changes in the chemistry and morphology of the epidermis. What this ultimately means is that skin dryness is frequently linked to impaired barrier function observed, for instance, in atopic skin, psoriasis, ichthyosis, and contact dermatitis.
Body creams can be beneficial for wound healing and scar repair purposes. This study highlights a list of ingredients that work best for scarring and wound healing, which are commonly used in conventional and natural body cream formulations.
Benefits of body cream application in cancer care
Another thing to note is the positive effects of moisturizing with body creams during cancer care. Chemotherapy has numerous potential benefits when it comes to successfully treating cancer, but it can also cause some not-so-pleasant side effects.
Some skin side effects of chemotherapy are more prevalent than others. For instance, it's very well-known that chemotherapy can lead to skin dryness, inflammation, and light sensitivity.
Routine gentle hydration can help manage the dry and irritated skin that so many people experience during chemotherapy. Another thing that can help to combat side effects of chemotherapy on skin health is regular exfoliation before hydration. Exfoliation with gentle body scrubs can help stimulate skin cell regeneration at the same time as removing dead skin cells. We have an entire article dedicated to body scrubs which you can find here.
Plus let's not forget, taking time for self-care can also help you feel better and more comfortable about how you look throughout treatment.
What's the difference between body cream and lotion?
What type of product should I be opting for? Is there a difference between body cream and lotion? If so, which one works better? Are all questions that can arise when staring down the shelves of the cosmetic aisle in your local store. 
But you'll be pleasantly pleased to hear that both types of these body hydrating agents can help you get soft, moisturized skin. The right choice actually depends on your skin requirements and concerns.
The principal difference between these two products is that body cream is normally thicker than lotion in texture. This feature makes body cream great for slathering onto your skin to provide long-lasting and deep restorative moisture. Nonetheless, body lotion contains a higher water concentration, so it appears lighter and is absorbed more quickly and efficiently into the skin. Meaning that if you're in a hurry body lotion is most definitely the clear winner.
Body lotions and body creams have many features in common when it comes to the generated benefits to your skin. Both center on renewing your skin's moisture and guarding it against long-term dryness and damage. 
Ask any dermatologist or cosmetologist what their number tip for skin care is and they'll almost certainly answer with moisturizing your skin daily. When choosing between body lotion and cream, you can't go wrong with either option, because both products are great for moisturizing your skin.
When it comes to formulations there are a few notable differences. For example, body lotions often use a combination of ingredients and skin nutrients, such as coconut oil and vitamin E oil. Whereas, body creams as the name implies, have a creamy feel and feature luxurious components such as cocoa butter and shea butter. These kinds of creams contain important amino acids which are known for repairing and restoring your skin.
List of ingredients that are most beneficial in body creams
The easiest way to moisturize at home is using body creams, which luckily are abundant on the skincare market, meaning that you'll have plenty of options to choose from. Nevertheless, it's strongly advised in the skincare space to try to opt for a natural product, or at the very least a cream that doesn't include a long list of toxic chemical ingredients. But, more on what to avoid later! 
Let's start with what ingredients you want to look for when purchasing new body cream products.
- Ceramides hold the skin together and help to form a protective layer to limit moisture loss and damage from environmental toxins and stressors. They also help to maintain your skin's suppleness. In other words, this ingredient can restore skin water permeability and barrier function. 
- Aloe vera has anti-inflammatory, antipruritic, analgesic, and wound healing properties. In a 2006 study, scientists concluded that Aloe vera extract is a powerful ingredient for improving skin hydration. Consequently, they noted that it may be used in moisturizing formulations successfully and also as a supplement in the treatment of dry and irritated skin.
- Shea butter has anti-inflammatory and anti-tumor promoting effects, but it's also an effective ingredient for moisturizing formulations due to its thick and creamy consistency. A study from 2010 found that the exceptionally high levels of triterpenes in shea fat show that shea butter constitutes a significant source of anti-inflammatory and anti-tumor supporting compounds.
- Zinc gluconate is another component that has been shown effective as an ingredient in formulations that are used as a treatment for many skin inflammations. Research shows that it's particularly helpful in cases of psoriasis.
- Glycyrrhetinic acid is a triterpenoid compound extracted from licorice root which has been shown to have potent anti-inflammatory and antiviral effects. This ingredient can help with dry skin, irritation, itching, and inflammation.
- Hyaluronic Acid is a truly promising ingredient in skin rejuvenating biomedicine, and prescription formulations for skin disorders. In a controlled setting, hyaluronic acid was shown to deliver greater skin hydration and penetration, making it an effective natural moisturizing agent and an interesting ingredient to look for when searching for a body cream. This acid can also be used for its anti-aging benefits.
- There are numerous botanical ingredients available on the market today. But several of these have been researched extensively over the last couple of decades, ultimately showing dermatological benefits. The ingredients with potential or exhibited dermatologic administrations include curcumin, ginkgo, ginseng, silymarin, tea tree oil, caffeine, chamomile, arnica, bromelain, pomegranate, green tea, licorice, and resveratrol. 
- And of course, this list wouldn't be complete without a reference to the age-old statement of "your skin is a reflection or mirror of what's going on inside". Collagen peptides have been shown to be effective for skin health when taken orally. They help nourish and deliver nutrients to the deeper layers of the skin, improving the skin's overall physiology, appearance, and elasticity thanks to the supplementation of collagen.
When you're on the lookout for a new body cream, you want to make sure that you find one that includes as many of the above-mentioned ingredients as possible. Each one of those highlighted ingredients is designed to serve your skin in an assortment of ways. 
Become a conscious consumer and pay attention to those dreaded ingredients lists. It may seem tiresome and tedious but your skin will most definitely thank you later!
What ingredients to avoid in body creams
Although many of us may not recognize it, most conventional body lotions, creams, and body butters are loaded with synthetic chemicals, many of which can poorly affect our health. Whether they're in the form of artificial fragrances, parabens, formaldehyde, or other toxic substances—these ingredients can lead to skin disorders such as dermatitis, psoriasis, and skin irritation, to name a few. So, instead of helping support skin health, they can actually turn out to hinder it, especially in the long run.
Natural ingredients have been the foundation of skincare products for centuries, and nowadays they are becoming more widespread in skincare formulations due to consumers' concerns about synthetic chemical substances being used as ingredients. Without a doubt, the global organic and natural personal skincare market is rapidly growing.
The main list of ingredients and toxic chemicals to avoid includes aluminum, DEA, BHA, DMDM, talc, petrolatum, Phthalates, MEA, formaldehyde, sodium lauryl sulphate, TEA, and synthetic fragrances.
- TEA, DEA, and MEA are commonly used as ingredients in facial toners, shampoos, and exfoliants. They can produce allergic reactions, eye irritability, and dehydrate the skin leaving it dry.
- BHA is a food preservative and stabilizer used in some skincare formulations. It's a known endocrine disruptor and "reasonably" anticipated to be a human carcinogen. In fact, parabens are also known to be endocrine and hormone disrupters. Moreover, these ingredients have been linked to breast cancer.
- Sodium Lauryl/Laureth Sulfate is a chemical that can be conventionally found in gels, face wash, shampoos, and exfoliants. It can cause irritation to the skin, eyes, and even the respiratory tract.
- Synthetic fragrances, like the ones used in lotions, creams, and body butters also emit harmful VOCs, which pollute indoor air quality and cause respiratory allergies such as asthma.
- Lastly, an interesting ingredient to keep an eye out for is Retinyl palmitate. A 2012 study suggested that retinyl palmitate, a type of vitamin A, may increase the speed of the development of skin lesions and tumors when applied to the skin barrier in the sunlight. 
In fact, it was such a shocking finding that German and Norweigan specialists have cautioned that retinyl palmitate and other forms of vitamin A ingredients in skincare products could be contributing to vitamin A toxicity when combined with exposure to the sun.
How to properly use a body creams
No matter what skin type you have, moisturizing is something that when done routinely can benefit everyone. People with sensitive or dry skin might prefer opting for a more nourishing moisturizing ingredient such as shea butter. 
When it comes to body creams there's most definitely something for everyone, and this ritual coupled with regular exfoliation can become key components in maintaining optimal skin health. But, how do you apply and use body creams?
Check out these easy steps for applying a body cream:
Step 1: Before moisturizing with a body cream, you'll want to make sure you remove excess oils and surface-level impurities from your skin. For this, you can use a hydrating bath gel or moisturizing soap, foamed up with the assistance of a gentle sponge, or if you're only intending on moisturizing your face region a quick face-wash with your favourite cleanser will do the job.
Step 2: Before applying the boy cream make sure your skin is completely dry.
Then you can proceed by massaging the body cream onto your clean and dry skin, and this should be lightly applied along the hair follicles direction. Always pay extra care to dry areas like the knees, elbows, legs, and arms. After application, ingredients may stay on the surface, absorbed into the skin for 8 hours approximately.
PRO-TIP: Make sure to be mindful when you're applying your body cream as you want to make sure that the product you're using is not going to waste and is being absorbed by the skin. I say this because a 2007 study found that in most cases of self-application of a therapeutic cream product as much as 31% of the skin surface was neglected. The research implies that patients on long-term self-treatment of body creams may practice local application poorly, a problem of therapeutic and economic importance. 
Shea butter, zinc, and cocoa butter-based moisturizers are all great options as they offer deeply penetrative hydration.
Frequently asked questions:
What's the average shelf life of natural and organic body creams?
Body creams should last numerous months, and in some can even last up to 3 years. Yet the shelf-life of body creams and lotions has turned out to be a very controversial topic. Conventional store-bought creams have an expiration date on the packaging or label, but these will last anywhere between 6 months to 3 years. Lastly, a product that's still sealed customarily has a shelf-life of at least three to five years.
Most organic face and body care brands note on their website that their products typically expire after 12 months.
When it comes to storing your body cream, a cupboard is an ideal place to keep body creams, away from light exposure. Heat and light can oftentimes shine through the container and taint some of the ingredients, making them less effective. It's also important to keep containers and applicators clean and properly sealed when they're not in use.
How often should I use body cream?
Depending on the skin's levels of dryness, recommended application frequency varies between 1-3 times daily.
Conclusion
There's a good reason why body creams remain one of the best selling skincare products on the market. The variety of different types of body creams that are available all have their distinct properties and benefits. This means that there's something available for everyone, for every skin type, and even every skin disorder. 
Now that you know the benefits of body cream for skin health and its application in cancer care, what are you waiting for? Go grab yourself some body cream! If you're interested, you can also check out our body cream that comes in our body care box! The show off butter cream is an organic mint butter cream that helps to to relax and invigorate you or your  loved one even if treatments tend to dry the skin. Our body care box also comes with a massage ball that works great with the cream!
Blog References
Benefits of body cream for skin health and its application in cancer care
https://www.inbmedical.com/the-evolving-role-of-skincare
The impressively hydrating benefits of body creams
https://pubmed.ncbi.nlm.nih.gov/22507043/
https://www.utmedicalcenter.org/the-importance-of-moisturizing/
https://www.ncbi.nlm.nih.gov/pmc/articles/PMC5849435/
https://pubmed.ncbi.nlm.nih.gov/22913439/
https://pubmed.ncbi.nlm.nih.gov/17300239/
https://pubmed.ncbi.nlm.nih.gov/16268870/
https://pubmed.ncbi.nlm.nih.gov/14572299/
https://pubmed.ncbi.nlm.nih.gov/22913439/
https://www.ncbi.nlm.nih.gov/pmc/articles/PMC4506744/
Benefits of body cream application in cancer care
https://www.cancer.gov/about-cancer/treatment/side-effects/skin-nail-changes
https://www.cancerresearchuk.org/about-cancer/coping/physically/changes
What's the difference between body cream and lotion?
https://www.kleinmd.com/blog/moisturizing-101-cream-vs-lotion
https://www.livestrong.com/article/297228-body-cream-vs-body-lotion/
List of ingredients that are most beneficial in body creams
https://pubmed.ncbi.nlm.nih.gov/12140465/
https://pubmed.ncbi.nlm.nih.gov/17026654/
https://pubmed.ncbi.nlm.nih.gov/20484832/
https://pubmed.ncbi.nlm.nih.gov/22509831/
https://pubmed.ncbi.nlm.nih.gov/22854010/
https://pubmed.ncbi.nlm.nih.gov/16552540/
https://pubmed.ncbi.nlm.nih.gov/23549137/
https://pubmed.ncbi.nlm.nih.gov/20840345/
https://www.researchgate.net/publication/327952833_Hyaluronic_Acid_a_Prom
https://www.ncbi.nlm.nih.gov/pmc/articles/PMC3970829/
https://www.researchgate.net/publication/272175669_Hyaluronan_Hyaluronic_
https://www.ncbi.nlm.nih.gov/pmc/articles/PMC3583886/
https://www.ncbi.nlm.nih.gov/pmc/articles/PMC6835901/